Mikä on Quickbooks Online?
QuickBooks Online is a small business accounting software and app that allows you to manage your business anywhere, anytime. Used by over 4.5 million customers, QuickBooks provides smart tools for your business, yet is easy to use. You can organize your books, manage expenses, send invoices, track inventory, and even run payroll. With QuickBooks Online, you can get organized, save time, and even get paid fast by adding payment features. Best of all, you can try it for free for 30 days.
Kuka käyttää tuotetta Quickbooks Online?
The #1 Accounting and Financials software for Small Business.
Missä Quickbooks Online voidaan ottaa käyttöön?
Pilvipohjainen
Paikallinen
---
Tietoja myyjästä
Intuit
Paikkakunta: Sacramento, USA
Perustettu vuonna 1983
Quickbooks Online: tuki
Puhelintuki
24/7 (asiakaspalvelija)
Chat
Kielet
englanti, espanja, kiina (perinteinen), portugali, ranska
Tietoja myyjästä
Intuit
Paikkakunta: Sacramento, USA
Perustettu vuonna 1983
Quickbooks Online: tuki
Puhelintuki
24/7 (asiakaspalvelija)
Chat
Kielet
englanti, espanja, kiina (perinteinen), portugali, ranska
Quickbooks Online: videot ja kuvat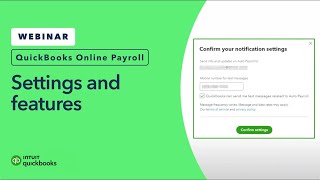 Vertaile tuotetta Quickbooks Online samankaltaisiin tuotteisiin
Tuotteen Quickbooks Online ominaisuudet
ACH-maksujen käsittely
AEC-aloja varten
ALV (arvonlisävero)
Aikaseuranta
Apurahojen hallinta
Asiakaslausunnot
Budjetointi/ennusteet
Ennustaminen
Entä jos -skenaariot
Etenemisraportit
Hyväksyntäprosessin hallinta
Ikääntymisen seuranta
Inventaarionhallinta
Itsepalveluportaali
Kiinteän omaisuuden hallinta
Kirjanpito
Kolmannen osapuolen integroinnit
Konsolidointi
Kuittien hallinta
Kulujen hallinta
Kulujen seuranta
Kulukorvausten hallinta
Kustannusarviointi
Käteisen hallinta
Lahjoitusten hallinta
Lahjoitusten seuranta
Laskujen käsittely
Laskujen luonti
Laskutuksen hallinta
Laskutus
Laskutushistoria
Liikamaksujen käsittely
Liikevaihtoveron hallinta
Maksujen kaksoiskappaleiden ilmoitus
Maksujen käsittely
Maksujen laskenta ja lähetys
Mobiilimaksut
Mobiilisovellus
Mobiiliyhteys
Mukautettava brändäys
Mukautettavat kentät
Mukautettavat laskut
Mukautettavat raportit
Myyjien hallinta
Myyntisaamiset
Osittaiset maksut
Ostotilausten hallinta
Ostotilausten täsmäyttäminen
Ostovelat
Palkkalistojen hallinta
Palkkalistojen raportointi
Pankkitilin täsmäytys
Perinnän hallinta
Peruskirjanpito
Projektin kirjanpito
Projektin laskutus
Pääkirja
Pääkirjojen ristikkäiset kirjaukset
Rahallisen avun hallinta
Rahaston kirjanpito
Raportointi/analytiikka
Reaaliaikainen raportointi
Reaaliaikaiset tiedot
Reseptin lataus mobiililaitteesta
Resurssien elinkaaren hallinta
Saatavien pääkirja
Shekin kirjoittaminen
Shekin käsittely
Shekin tulostus
Strateginen suunnittelu
Sähköinen varojen siirto
Sähköiset maksut
Talletus suoraan tilille
Taloudellinen raportointi
Tarjoukset/hinta-arviot
Tiedonpoiminta
Tietojen tuonti/vienti
Tililuettelo
Toiminnan hallintapaneeli
Toistuva laskutus
Toistuva/tilauslaskutus
Transaktioiden seuranta
Tulos- ja taselaskelma
Tuloslaskelma
Työajan ja kulujen seuranta
Useiden osastojen/projektien välinen
Useita laskutusjaksoja sisältävä toistuva laskutus
Useita valuuttoja
Uskonnollisille järjestöille
Vaatimustenmukaisuuden hallinta
Vapautusten hallinta
Varallisuuden kirjanpito
Veloitusyksikköjen seuranta
Verkkolaskutus
Verkkomaksut
Verojen hallinta
Verojen ilmoittaminen
Verojen vaatimustenmukaisuus
Versiohallinta
W-2-valmistelu
Yhteystietojen tietokanta
Yleishyödyllisille yhdistyksille
Quickbooks Online: Vaihtoehdot
Arvostelut tuotteelle Quickbooks Online
Troy
Marketing Manager, USA
Vahvistettu LinkedIn-käyttäjä
Sairaalat ja terveydenhuolto, 501-1 000 - työntekijät
Käytti ohjelmistoa seuraavaan tarkoitukseen: Yli 2 vuotta
Quickbooks Online, if it isn't broken don't fix it.
Hyvät puolet:
Payroll Management in Quickbooks Online is the best of the best. Known for its great employee management tools, Quickbooks Online makes payroll a breeze. Direct Deposit in Quickbooks Online provides you with an easy and convenient streamlined system to set up for all of your employees and new hires.
Huonot puolet:
Quick books online doesn't have many features that i would consider need improvement. It gets the job done.
Kirjanpito, 2-10 - työntekijät
Käytti ohjelmistoa seuraavaan tarkoitukseen: Yli 2 vuotta
Huomioon otetut vaihtoehdot:
Excellent online bookkeeping software.
Kommentit: I love QuickBooks and this is the software of our choice for our practice.
Hyvät puolet:
The reporting side is the best on the market, with many dimensions of data available, more than e.g. Xero, with only two tracking categories. I also like the support, being able to speak to a person if needed. Also the discounting referral system is very good.
Huonot puolet:
VAT management and reconciliation can be quite tricky, as software often allows to change the previously submitted to HMRC data.
Lääkinnälliset laitteet, 2-10 - työntekijät
Käytti ohjelmistoa seuraavaan tarkoitukseen: 6–12 kuukautta
Huomioon otetut vaihtoehdot:
QBO Works, But It Should Be Better Than It Is
Kommentit: Due to the massive price increase to move to a 60k+ ERP, QBO is probably still the way to go, it's just a shame that they haven't done a better job listening to their customers and implementing the MANY MANY requests and suggestions that they have been receiving for years.
Hyvät puolet:
You can login online from anywhere, and it does a great job of syncing with your bank accounts
Huonot puolet:
The support is basically non-existent. Also, there is just no reason that they haven't implemented more customization options for how long this software has been out. They also make syncing with other programs sound good, but then limit what can actually be done on the back-end.
Myyjän Intuit vastaus
2 kuukautta sitten
Hi, Ryan. Thanks for an honest review. This isn't the impression we hoped you'd have. We'd appreciate the opportunity to make this right. The best way to reach the QuickBooks Online Team is to use any of the methods listed here: (https://quickbooks.intuit.com/learn-support/en-us/help-article/account-management/quickbooks-online-support/L6WqNrDq0_US_en_US). We're always happy to help. All the best. -Kristina, The QuickBooks Team
Bryant
Business Owner/Personal Trainer, USA
Terveys, hyvinvointi ja kuntoilu, Itsetyöllistetyt
Käytti ohjelmistoa seuraavaan tarkoitukseen: Yli 2 vuotta
Huomioon otetut vaihtoehdot:
Makes my job a ton easier
Kommentit: I like Quickbooks. The company name does make sense... you do everything quickly lol. I haven't had a single issue other than the invoicing problem. I did spend more than enough time with their customer service which was a pain in the butt but the rep was really friendly and helped me get it sorted out. If I could recommend Quickbooks to a new or seasoned business owner, I definitely will! It looks expensive and hard to learn but honestly, it's much easier to navigate than it looks!
Hyvät puolet:
I was hesitant at first since I didn't want to go the everything electronic route. My wife was doing all of the tax stuff so I just gave her the okay and made the purchase. I now do everything minus invoicing through Quickbooks. Everything is streamlined for me and I realized how much time I was truly losing by doing everything through Excel and calculating by hand. My wow moment was watching my time being cut in half literally by just snapping a photo of a receipt after connecting my bank account then adding details on the purchase... that's it!
Huonot puolet:
Now... the invoicing part I'm just not fond of. There was an error with a payment and Quickbooks kept kicking back a payment a client had made. I ended up just going through Paypal Business and setting up my invoices through there and attached my Paypal account to Quickbooks to make things easier on myself. If invoicing was different, I would be 100% with Quickbooks.
Alanna
Chief Marketing Officer, Kanada
Vahvistettu LinkedIn-käyttäjä
Tietokoneen ohjelmistot, 2-10 - työntekijät
Käytti ohjelmistoa seuraavaan tarkoitukseen: Yli 2 vuotta
Reliable accounting software, some syncing challenges
Hyvät puolet:
I find Quickbooks is easy to use & reliable for doing basic business accounting. I also rely on the reporting features to quickly see a snapshot of important data like P&L, broken down into quarters and months.
Huonot puolet:
I've run into some syncing problems with my bank, where Quickbooks doesn't automatically sync or the connection is somehow lost and I need to jump through some hoops to fix it. I'm not sure if that's a problem with my bank or a Quickbooks problem though. I also have run into some issues with having balances in 2 different currencies, and making sure income/expenses are properly accounted for.
Myyjän Intuit vastaus
2 kuukautta sitten
Hi, Alanna. We'd like to offer our assistance and make sure QBO helps you save time going forward with your banking. The steps listed here have resolved this issue in previously: (https://quickbooks.intuit.com/learn-support/en-us/help-article/banking/get-bank-error-download-transactions-quickbooks/L5Tek4yh7_US_en_US). Should you still experience the issue with the connection please reach out to our team so we can look into this further with you (https://quickbooks.intuit.com/learn-support/en-us/help-article/account-management/quickbooks-online-support/L6WqNrDq0_US_en_US). All the best. -Kristina, The QuickBooks Team