Mikä on Teachable?
Teachable is an online courses and coaching creation software that allows entrepreneurs, creators, and businesses of all sizes create personalized engaging online courses and coaching products complete with videos, lectures, and quizzes.
Collect payments through Teachable so you don't have to handle any of the nitty gritty around VAT, taxes, and author payments. Track sales, gain insights into sold courses, and collect feedback via surveys on a unified dashboard. All with zero tech headaches.
Kuka käyttää tuotetta Teachable?
We help entrepreneurs, creators, and small business owners earn money sharing what they know through courses and coaching.
Missä Teachable voidaan ottaa käyttöön?
Pilvipohjainen
Paikallinen
---
Tietoja myyjästä
Teachable
Perustettu vuonna 2014
Tietoja myyjästä
Teachable
Perustettu vuonna 2014
Teachable: videot ja kuvat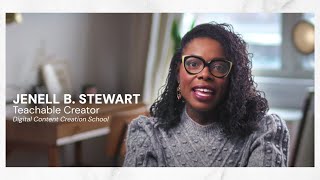 Vertaile tuotetta Teachable samankaltaisiin tuotteisiin
Tuotteen Teachable ominaisuudet
Arviointien hallinta
Asynkroninen oppiminen
Etenemisen seuranta
Etenemisraportit
Kokeet
Kolmannen osapuolen integroinnit
Koulutuksen hallinnointi
Kurssien hallinta
Kurssien julkaiseminen
Kurssien laatiminen
Kurssien seuranta
Kuvakäsikirjoitukset
Käyttäjien hallinta
Median tuonti
Mobiilioppiminen
Monikielinen
Monimuoto-oppiminen
Mukautettava brändäys
Mukautettavat mallit
Multimediatuki
Näytön jakaminen
Oppijaportaali
Oppimisen hallinta
Oppimispolut
Raportointi ja tilastot
Reaaliaikainen yleislähetys
Sisällönhallinta
Sisäänrakennettu kurssien laadinta
Synkroninen oppiminen
Sähköisen liiketoiminnan hallinta
Testit/arvioinnit
Tietojen tuonti/vienti
Toiminnan hallintapaneeli
Virtuaalinen luokkahuone
Arvostelut tuotteelle Teachable
Marilyn "M.E."
CEO, USA
Vahvistettu LinkedIn-käyttäjä
Uskonnolliset organisaatiot, 2-10 - työntekijät
Käytti ohjelmistoa seuraavaan tarkoitukseen: Yli 2 vuotta
Huomioon otetut vaihtoehdot:
Teachable Moments
Kommentit: Overall Teachable solved a revenue issue for us! We needed a place for people to go and purchase out products and downloadable services without having to start from scratch - which is quite costly - and Teachable allowed us to do that. It help us generate necessary revenue with ease.
Hyvät puolet:
Teachable is very user friendly. I am not a very technically inclined person and this program gave me the ease I needed to set our digital classroom. AT the time we began using the company could not afford more than $100 a month and Teachable was very affordable for out small nonprofit.
Huonot puolet:
I would say that my least favorite aspect of Teachable is or was the design templates, although they recently upgraded this feature and you can do a few more fancy things to your store and landing page.
Sam
Course Creator, Arabiemiirikunnat
Verkko-oppiminen, 2-10 - työntekijät
Käytti ohjelmistoa seuraavaan tarkoitukseen: Yli 2 vuotta
Huomioon otetut vaihtoehdot:
Teachable: Course Creators are Lost Without it!
Kommentit: It's a smooth journey and you have everything you need in one place. Excellent UI and overall it's all you need.
Hyvät puolet:
The overall coverage of all features a course creator needs. They even provide a payment gateway, which alone saves you plenty in commisions and monthly fees.
Huonot puolet:
Just need an Android app. Not having an Android app forces most of my students to watch the courses on their browsers.
Biggi
President, USA
Vahvistettu LinkedIn-käyttäjä
Markkinointi ja mainonta, Itsetyöllistetyt
Käytti ohjelmistoa seuraavaan tarkoitukseen: Yli 2 vuotta
The most complete online LMS
Kommentit: Overall, my experience with the product has been great. But, Teachable, the company, really goes above and beyond to support course creators and help them earn from their knowledge. I definitely recommend them.
Hyvät puolet:
Having been around for many years, Teachable has all the features I am looking for in an LMS. For me, it also has the best student experience of all the hosted or self-hosted LMS platforms. Unlike other software in the category, Teachable has full email capabilities built in, saving me time and money. Their help documentation is also very comprehensive and well written, making the need for customer support a rarity.
Huonot puolet:
The software is great, but I don't like the pricing. The free plan had its features cut so much that it really can only be used as a trial version to evaluate the software.
Katie
Owner, USA
Vahvistettu LinkedIn-käyttäjä
Koulutuksen hallinta, Itsetyöllistetyt
Käytti ohjelmistoa seuraavaan tarkoitukseen: 1–5 kuukautta
No Customer Service
Kommentit: Using Teachable itself was okay, but the customer service is unacceptable. The only way you can contact them is through email and they may not get back to you for several days. I left Teachable for a different company six months ago and they STILL have a claim on my domain. If you try to access my site without the 'www', you get sent to a Teachable 404 page. I have gone through the DNS settings multiple times with my current company, and we can't do anything about it. Every time I email with an agent, they assure me that my account is closed and that Teachable isn't connected to my domain. They share screen shots, then ask me to provide them with my own. When I send them the shots showing the specific information they have asked for, they won't respond. Regardless of your course content, you need fast, effective customer service. Teachable does not provide that.
Hyvät puolet:
Teachable is easy to use and I was able to set up my courses quickly in a format that was conducive to the content.
Huonot puolet:
Assessments are an important part of my curriculum, but the available quiz templates were too basic for my needs. Also, when I had questions or needed help, it took days to get a response for customer service.
Melissa
Course Developer, USA
Verkko-oppiminen, Itsetyöllistetyt
Käytti ohjelmistoa seuraavaan tarkoitukseen: Yli 1 vuosi
Huomioon otetut vaihtoehdot:
Teachable - It's not for everyone
Kommentit: Overall it is a good platform. It is a bit pricey and you'll need to be patient as it is not beginner friendly. If you already are having success in your online courses, this would be for you. If you are just starting, you might try elsewhere.
Hyvät puolet:
I really liked about teachable is that it allows you to setup and integrate your coaching calendar within Teachable to allow for bundles. I also really liked how easy it was to integrate the quizzes as well. The tracking module was also really good.
Huonot puolet:
It was really difficult to set up the sales page. There are no marketing tools integrated with this. It is very expensive in comparison to other options as well. I did not typically have the best response with customer service - it wasn't bad though, it just wasn't good.