BigChange
Mikä on BigChange?
BigChange's Job Management System is built to help every field service business grow stronger. Integrating customer relationship management (CRM), job scheduling, live tracking, field resource
Näytä enemmän
management, financial management & business intelligence into one simple to use and easy to integrate, cloud-based platform that any business with field workers can thrive from.
Näytä vähemmän
Kuka käyttää tuotetta BigChange?
BigChange is the complete Job Management System, helping building maintenance, construction, environmental and other field service companies grow stronger everyday.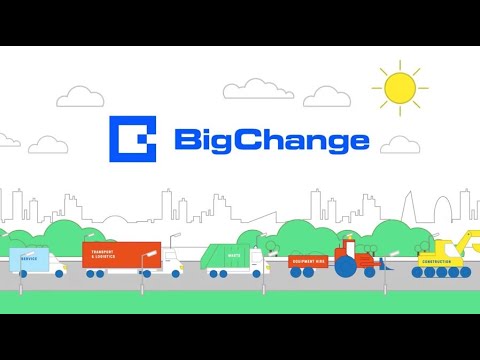 Etkö ole varma tuotteesta BigChange? Vertaa sitä suosittuun vaihtoehtoiseen tuotteeseen
Ilmainen versio
Ilmainen kokeilu
Ilmainen versio
Ilmainen kokeilu
Arvostelut tuotteelle BigChange
Colin
Director, Britannia
Vahvistettu LinkedIn-käyttäjä
Jälleenmyynti, 1 001-5 000 - työntekijät
Käytti ohjelmistoa seuraavaan tarkoitukseen: Yli 2 vuotta
Working with Big Change
Kommentit: See less, it's like the solution has integrated well and forms part of our day to day operating model.
Hyvät puolet:
I think the best element of this product is that's it very versatile as it allows you to design it around your current operation. Also the team are constantly releasing useful updates, some of which make life a little easier and some offer productivity gains.
Huonot puolet:
There nothing really that's bad here, any elements that were hare to navigate are constantly being updated to make them as user friendly as possible.
Myyjän BigChange vastaus
2 vuotta sitten
What a great review - we are thrilled to hear how pleased you are with your system and benefit from our regular new system updates. BigChange is indeed a very versatile system and we are happy to be part of your operating model. Thank you for choosing BigChange.
Jordan
Founder, Britannia
Rakentaminen, 11-50 - työntekijät
Käytti ohjelmistoa seuraavaan tarkoitukseen: Yli 2 vuotta
Huomioon otetut vaihtoehdot:
Big Change Revolutionised My Business
Kommentit: I have dealt with all levels withing the business and found 99% of the people amazing to deal with! They have guided, trained and been far more accommodating then any other mobile resource software provider out there.
Hyvät puolet:
The facility to invoice live and make cash flow through the business improve.
Huonot puolet:
The schedule does not have dynamic scheduling
Myyjän BigChange vastaus
3 vuotta sitten
Delighted to hear about your amazing experience with the BigChange system. We designed it to be 'Revolutionary' for everyone, for you the business owner, for your team for your customers and your cashflow. Nothing gives us more satisfaction than hearing great success stories like this. Thank you once again for taking the time to leave a review. All the best, Team BigChange
Jälleenmyynti, 11-50 - työntekijät
Käytti ohjelmistoa seuraavaan tarkoitukseen: Yli 1 vuosi
Market leading product with a huge amount of flexibility and excellent customer support
Kommentit: Excellent, superb team. Approachable, helpful and constantly improving.
Hyvät puolet:
The team at BigChange have understood the needs of their customers. They listen to feedback and suggestions from their users which has helped them to develop a very comprehensive and flexible system. What makes them stand apart is the constant strive to improve the software. They consistently release regular updates and upgrades and will listen to new suggestions through their ideas portal. JobWatch is intelligent, featured packed and intuitive. It is also very easy to use once you have spent a little time exploring all the features of the software. JobWatch is also very customizable to your business type and processes.The customer support team 'RoadCrew' is second to none. I would go as far to say they have the best customer support of any business I have worked with.We have accelerated our business since we choose JobWatch and haven't looked back since. I have no hesitation in recommending this software.
Huonot puolet:
It can be tricky to onboard all your data at the beginning but with perseverance and a willingness to adjust the way you 'used to work' to fit in with the software, you really won't be disappointed.
Rakentaminen, 51-200 - työntekijät
Käytti ohjelmistoa seuraavaan tarkoitukseen: 6–12 kuukautta
Huomioon otetut vaihtoehdot:
Big Change but NOT a BIG IMPROVEMENT
Kommentit: Heavy sales pitch full of promises that failed to deliver as soon as we signed on the dotted line, you cannot believe the pressure that they put on you to get you locked in to a very long and expensive contract , I feel conned
Hyvät puolet:
nothing that most other software can deliver
Huonot puolet:
Big Change, BIG promises that they fail to deliver, no help with transition from an existing system and no help at all (unless you pay extra of course) with the bespoke elements of the system that they claim during the sales and onboarding process will be no problem to integrate. As soon as you sign up and the pro-forma and direct debits have been arranged you struggle to hear from anyone. This system has cost my company a fortune and we are going back to our original system as its was far more user friendly and efficient, I will ask all of my staff members to provide an honest non -biased review of Big Change where it relates to their particular user experiences in their various roles, this has been a Big Mistake
Myyjän BigChange vastaus
4 kuukautta sitten
Hi Ricky, Thanks for taking the time to leave your review. Sorry that you felt that it was difficult to get set up and integrated smoothly into BigChange. I would be interested to hear more about your feedback and would be happy to discuss this further if you wish. Kind regards Ian Burgess Chief Customer Officer 07879 698697
Hannah
Office Manager, Britannia
Turvallisuus ja tutkinnat, 51-200 - työntekijät
Käytti ohjelmistoa seuraavaan tarkoitukseen: Yli 1 vuosi
Apardion Review - August 2022
Kommentit: So far Big Change has helped us reduce our paper usage, allows our resources to provide more information for all jobs. Any changes to any reports can be carried out much easier as we used to use paper copies of reports. Big Change has helped us save a lot of time on a daily basis.
Hyvät puolet:
System is suitable for many different types of jobs our company require on a daily basis. Schedule a job cannot be easier, likewise to edit a scheduled job is quick and simple.
Huonot puolet:
Can be rather difficult to set up CRM or jobs with many different settings, different features such as job types, job categories and templates are needed to set up a job, which can be time consuming or complicated for new users to remember.
Myyjän BigChange vastaus
3 kuukautta sitten
Hi Hannah Thanks for leaving us such a great review, we value each one of them equally but its always wonderful to see our customers getting so much value from BigChange. Job scheduling is at the core of what we do so its great to see that its so easy to use and that the system has allowed you to reduce your paper usage. We are Big on sustainability and helping our customers to do the same is a key part of our product offering. Most importantly you are seeing the benefits of saving time every day and it's a pleasure for us to see our customers grow stronger using BigChange. If you would like any further help with the system, I would be happy to connect you with your Customer Success representative. Many thanks Ian Burgess Chief Customer Officer [email protected]