Mikä on HelloBox?
Users are 80% more likely to get in touch with you, when they can use a channel, they already use (according to Entrepreneur.com). HelloBox adds an omnichannel contact widget to every single page of your website.
To reach the most people as effectively as possible, HelloBox provides a wide range of communication channels to let visitors choose the medium they feel most comfortable with.
Our mission is it to make it easier for your website visitors to get the help they want and need.
Kuka käyttää tuotetta HelloBox?
HelloBox is best for all people who are their own brand ambassador. We see especially a high-potent for: - Real Estate Agents - Coaches and Trainer - Local Business Owners
Missä HelloBox voidaan ottaa käyttöön?
Pilvi-, SaaS-, verkkopohjainen
Tietoja myyjästä
PixelHub
Perustettu vuonna 2018
Chat
Saatavilla olevat maat
Espanja
Kielet
Ei toimittajan tarjoama
HelloBox: hinnat
Lähtöhinta:
8,00 $/kuukausi
Kyllä, tästä on maksuton kokeiluversio
Ei maksutonta versiota
HelloBox ei tarjoa ilmaista versiota, mutta tarjoaa ilmaisen kokeilun. HelloBox maksullinen versio alkaen 8,00 $/kuukausi.
Tietoja myyjästä
PixelHub
Perustettu vuonna 2018
Chat
Saatavilla olevat maat
Espanja
Kielet
Ei toimittajan tarjoama
HelloBox: videot ja kuvat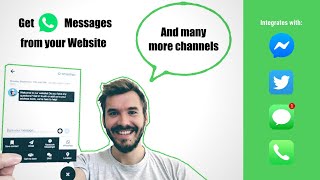 Vertaile tuotetta HelloBox samankaltaisiin tuotteisiin
Tuotteen HelloBox ominaisuudet
Automaattiset vastaajat
Mobiiliyhteys
Mukautettava brändäys
Offline-lomake
Proaktiivinen chat
Raportointi/analytiikka
Arvostelut tuotteelle HelloBox
Nicholas I.
Owner, Designer, Marketer, USA
Vahvistettu LinkedIn-käyttäjä
Graafinen suunnittelu, Itsetyöllistetyt
Käytti ohjelmistoa seuraavaan tarkoitukseen: 6–12 kuukautta
Great product, just not for my business
Kommentit: HelloBox is a great product, and I would have continued to use it if I just needed my customers to contact me directly or fill out a form to have me contact them at a later date. It just so happens that I need an active 24/7 bot to greet my customers, take down information, transfer it to my CRM, and also schedule appointments right there in the chat. HelloBox is a great solution for people who want multiple channels to chat with their customers on all packaged together, however beyond that I'd go with somethign else. Hellobox could have done everything I needed it to do, however, I wasn't interested in it enough to continue with the product.
Hyvät puolet:
I liked the vast array of channels to contact the business and you get to choose which channels are turned on and off.
Huonot puolet:
The size of the widget when it was fully expanded. It was a lot to take in sometimes if you had a lot of channels available for contact. Also, I think the more channels to communicate with your customer is a good thing, maybe like 3 to 4 should be limited to the widget. It gets too crowded on there.
Myyjän PixelHub vastaus
3 vuotta sitten
Thanks Nicholas for your honest words, we'll take it into account for the next iterration.
Marylou M.
Project Manager, Meksiko
Kiinteistöala, 201-500 - työntekijät
Käytti ohjelmistoa seuraavaan tarkoitukseen: Yli 1 vuosi
Great product, bad service
Kommentit: I like the software, but it's risky. Considerate this before buying it. Also, if you know another software please let me know!
Hyvät puolet:
Its a great software overall. But I believe they need more people to assist the clients they already have.
Huonot puolet:
Since my company has a lot of clients, things come up and in digital we need to act quickly. Here with hellobox is my only provider where I have problems to change simply things as: - account settings - get the bills to a new email My clients are upset because we cannot provide them bills for a service, which is a very bad image for the company.
Johdon konsultointi, 11-50 - työntekijät
Käytti ohjelmistoa seuraavaan tarkoitukseen: Ilmainen kokeiluversio
¡Cuidado con el truco cuando se vence la prueba gratis!
Kommentit: Es increíble que al finalizar el trial, pongan visible en mi sitio web (todos los visitantes lo ven al visitar el website) un mensaje invitando a comprar la versión de pago, lo que resulta molesto para un visitante que no tiene por qué distraerse leyendo un mensaje que no es para él, ni es parte de mi página web. He intentado quitando el código que inserté para el trial, pero es inútil. Algo hace ese código malicioso tras bambalinas, que no desaparece. Parece ser una estrategia engañosa para obligar a comprar los planes de pago, quizás así desaparezca el molesto mensaje, pero ahora ya NO quiero comprarles el servicio porque considero esta estrategia casi fraudulenta. No recomiendo hacer negocios con este proveedor, a riesgo de incurrir en gastos mayores y dolores de cabeza intentando eliminar el software malicioso que parece acompañar el trial.
Hyvät puolet:
Cumple con lo prometido en la descripción del producto.
Huonot puolet:
Funciona bien, incluso estuve a punto de comprar el plan anual luego de la prueba gratis. Pero el servicio al cliente es pésimo, no dan respuesta por ninguno de los medios que dejan disponibles en su propio "HelloBox" de su página web. ¡Qué tal, no les funciona ni a ellos mismos!
Nina K.
Webdesigner, Ranska
Suunnittelu, Itsetyöllistetyt
Käytti ohjelmistoa seuraavaan tarkoitukseen: 1–5 kuukautta
Contact widget for your website
Kommentit: The widget is extremely easy to set up, it supports most social media and traditional channels, there are quite a few options available, and the customer support is great!
I recommend this widget for professional websites.
Hyvät puolet:
These are nice features that I didn't find in other contact widgets: - Number of integrations (10 channels available) - Great customization options (picture, badge) - QR code generation for SMS - Option to display business hours - Free trial for one month - Amazing customer support
Huonot puolet:
These are my suggestions to improve the widget further: - Enhance widget position options (currently left or right, no custom positioning) - Would love a "simpler" version with a minimalist design (the current version looks very professional - not suitable for personal or quirky landing pages) - Translation (FR) is not perfect - Add option to display time in 24h format and date as day dd mm - Reduce loading time (currently 5 sec) - Add option to customize the apparition of the widget (event trigger, timer, animation effect.) - No need to enter credit card info to get free trial
Stephen R.
Marketing, Britannia
Vahvistettu LinkedIn-käyttäjä
Maa- ja vesirakentaminen, 51-200 - työntekijät
Käytti ohjelmistoa seuraavaan tarkoitukseen: 6–12 kuukautta
Fantastic
Kommentit: Positive. Increased contact and easy to use.
Hyvät puolet:
HelloBox allows our customers to get in touch with us fast and in a way that they prefer rather than relying on just email or phone. It offers all the options right on the page so it's easy for users to locate.
Huonot puolet:
I have nothing negative to say about it. Works perfect.
Myyjän PixelHub vastaus
3 vuotta sitten
Hey Stephen, we appreciate your great feedback. Thanks a lot