Mikä on Ideta?
In one click, make your chatbot completely multichannel and deploy it on every touch point such as your landing page, Facebook Messenger, Whatsapp, Slack and even by text messages with our custom Twilio integration. You can add Artificial Intelligence thanks to our easy-to-use no-code interface and you can connect it to multiple NLP providers such as Dialogflow, Luis or Alexa. We made it easy to connect to any software via API and without coding, send customers' information to your CRM and such.
Kuka käyttää tuotetta Ideta?
We serve companies that want to leverage conversational AI without all the usual hassle. The use cases are very varied, from HR to IT and marketing. Imagination is the limit.
Missä Ideta voidaan ottaa käyttöön?
Pilvi-, SaaS-, verkkopohjainen
Tietoja myyjästä
Ideta
Paikkakunta: 75003, Ranska
Perustettu vuonna 2017
Chat
Ideta: hinnat
Lähtöhinta:
29,00 €/kuukausi
Kyllä, tästä on maksuton kokeiluversio
Kyllä, tästä on maksuton versio
Ideta tarjoaa ilmaisen version ja tarjoaa ilmaisen kokeilun. Ideta maksullinen versio alkaen 29,00 €/kuukausi.
Tietoja myyjästä
Ideta
Paikkakunta: 75003, Ranska
Perustettu vuonna 2017
Chat
Ideta: videot ja kuvat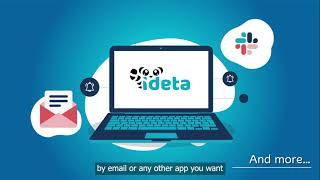 Vertaile tuotetta Ideta samankaltaisiin tuotteisiin
Tuotteen Ideta ominaisuudet
Automaattiset vastaajat
Chat-botti
Geo-kohdentaminen
Kolmannen osapuolen integroinnit
Live-chat
Luonnollisen kielen käsittely
Mobiiliyhteys
Monikanavainen viestintä
Monikielinen
Mukautettava brändäys
Offline-lomake
Proaktiivinen chat
Puheentunnistus
Raportointi/analytiikka
Reaaliaikainen kuluttajalle suunnattu chat
Siirrot/reititys
Tekoäly/koneoppiminen
Transkriptio-/chat-historia
Verkkosivuvierailujen seuranta
Yhteistyövälineet
Arvostelut tuotteelle Ideta
Zachary I.
President, USA
Vahvistettu LinkedIn-käyttäjä
Tietokoneen ohjelmistot, 2-10 - työntekijät
Käytti ohjelmistoa seuraavaan tarkoitukseen: Yli 1 vuosi
I wouldn't run my business without Ideta.
Kommentit: We are incredibly lucky to have found such a partner. I wouldn't run our business without them.
Hyvät puolet:
Incredibly easy to use. Links and syncs quick, and has had 99% uptime since implementing
Huonot puolet:
The UI does need tweaking. But after hearing the user feedback they already started making proactive and positive changes
Edison augusto P.
CEO, Kolumbia
Tietoverkot, 2-10 - työntekijät
Käytti ohjelmistoa seuraavaan tarkoitukseen: 1–5 kuukautta
Huomioon otetut vaihtoehdot:
Great chatbot and easy to use
Kommentit: The time I've been there has seemed to me an application of a very good level and very advanced functionalities (more than expected). I was positively impressed with everything it brings.
Hyvät puolet:
The application has many interesting features and the possibility of extending its options with dialogflow. I think it's one of the best apps I've ever bought. After you understand the interface well, you can easily implement the chatbots and adapt them to the requirements of my clients.
Huonot puolet:
the interface is difficult to understand, and the options could be improved depending on where they are placed, as well as the editor, which can be improved compared to other chatbot applications. I hope they improve that part.
Shreyans J.
Founder, Intia
Jälleenmyynti, 2-10 - työntekijät
Käytti ohjelmistoa seuraavaan tarkoitukseen: 1–5 kuukautta
Huomioon otetut vaihtoehdot:
Creates Chatbot In Minutes
Hyvät puolet:
- Finish Creating your new chatbot in minutes. - Easy integration with major leading platforms.
Huonot puolet:
- I found some of the Ai had some irrelevant suggestions, that needs to be improved. - The interface is a bit of learning curve. But you'll get use to it later when you start using it.
Jorge T.
CEO & Founder, Meksiko
Markkinointi ja mainonta, 2-10 - työntekijät
Käytti ohjelmistoa seuraavaan tarkoitukseen: 1–5 kuukautta
Huomioon otetut vaihtoehdot:
Simple, easy to use chatbot with lot of power
Kommentit: I had a great experience using Ideta. Although easy to use, is full of features that I havent seen in other chatbots and I believe is really promising. For example the comments automation for Facebook. The more I know the software, the more I enjoy it.
Hyvät puolet:
The capabilities it has for implementing a chatbot on your website. Has sliders with images for your client to chose from, easy to use dialog and store of important data. Also has out of the box validation for email (really important in my opinion) and a "are your still there?" automatic dialog.
Huonot puolet:
Some out of the box features that I need to work around to cover, like Google Ads integration and some specific entities store in NLP (Dialogflow specifically). Im confident that the development team is covering this sooner than later so Im looking forward to develop new projects with Ideta.
Vinnie R.
Online Marketing, Australia
Verkko-oppiminen, Itsetyöllistetyt
Käytti ohjelmistoa seuraavaan tarkoitukseen: 1–5 kuukautta
Highly Recommended
Kommentit: The software works beautifully and it's packed with powerful features such as the possibility of sending images, videos, links, etc in your conversation, which is very handy as a chatbot to automate conversation flow. Its package also offers a very generous number of conversations you can have per tier making it a great opportunity for those who want to use it as a small agency and build chatbots for other business owners. The only downside in my opinion is their thinking behind the conversation flow building. Most software uses that drag-and-drop canvas to build the conversation flow, whereas Ideta's developers have to build a totally different way to do it making it a bit hard to start since you have to adapt yourself to their tool, but once you learn how it works, it super easy. It's just that initial first contact with the tool that can be a bit time and energy-consuming, and I was told that they're looking to improve it to the traditional drag-and-drop in a conversation with the team.
Hyvät puolet:
- A lot of handy features - Very generous package - Best value for money - High-quality customer support -Highly customizable
Huonot puolet:
They have their own unique way of building a chat conversation that differs from the traditional "drag-and-drop" flow.