Mikä on Roofr?
Roofr offers accurate roof measurement reports for $15 delivered same day or you can measure it yourself using the free DIY software. Every report includes 6-pages outlining total squares, pitch, edges (including hips, valleys, ridges, flashing, and more).
Roofr also allows users to send impressive branded proposals to leads so they can stand out from the competition and sell more jobs.
Start for free now and start winning more work!
Kuka käyttää tuotetta Roofr?
Roofing Contractors - $15 roof measurement reports delivered same day or use the free DIY software. All reports are accurate and include all details of the roof. No fees. Unlimited users.
Missä Roofr voidaan ottaa käyttöön?
Pilvi-, SaaS-, verkkopohjainen, Mac (pöytäkone), Windows (pöytäkone), Linux (pöytäkone), Chromebook (pöytäkone)
Tietoja myyjästä
Roofr
Perustettu vuonna 2017
Puhelintuki
Chat
Saatavilla olevat maat
Kanada, Yhdysvallat
Roofr: hinnat
Lähtöhinta:
15,00 $/kertaluontoinen
Kyllä, tästä on maksuton kokeiluversio
Kyllä, tästä on maksuton versio
Roofr tarjoaa ilmaisen version ja tarjoaa ilmaisen kokeilun. Roofr maksullinen versio alkaen 15,00 $/kertaluontoinen.
Tietoja myyjästä
Roofr
Perustettu vuonna 2017
Puhelintuki
Chat
Saatavilla olevat maat
Kanada, Yhdysvallat
Roofr: videot ja kuvat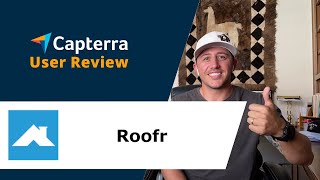 Vertaile tuotetta Roofr samankaltaisiin tuotteisiin
Tuotteen Roofr ominaisuudet
CRM
Tarjoukset/hinta-arviot
Valokuvien kaappaus
Arvostelut tuotteelle Roofr