Mikä on Absorb LMS?
Absorb LMS:n avulla yritykset ympäri maailmaa voivat ylittää oppimistavoitteet. Joustavaan koulutukseen tarkoitettu intuitiivinen suunnittelu ja järeät ominaisuudet luovat innostavan oppimisympäristön, joka saa työntekijäsi, asiakkaasi ja kumppanisi haluamaan lisää. 120 vertikaalisella markkinalla asiakkaita palveleva Absorb LMS -järjestelmä tarjoaa aikaa säästävän ja sijoituksen tuottoa parantavan automaation ja syväraportointiominaisuudet. Hyödynnä integrointia ja suojaa tukevaa skaalautuvaa LMS-järjestelmää, tarjoten samalla ympärivuorokautista tukea yrityksen sisällä.
Kuka käyttää tuotetta Absorb LMS?
Sopii työntekijöiden koulutusta, ulkoista koulutusta tai molempia tarjoaville organisaatioille, mukaan lukien verkkokaupan alalla. Työskentelemme organisaatioille, joissa on opiskelijoita muutamasta sadasta satoihin tuhansiin.
Missä Absorb LMS voidaan ottaa käyttöön?
Pilvipohjainen
Paikallinen
---
Tietoja myyjästä
Absorb
Paikkakunta: Calgary, Kanada
Perustettu vuonna 2002
Absorb LMS: tuki
Puhelintuki
24/7 (asiakaspalvelija)
Chat
Tietoja myyjästä
Absorb
Paikkakunta: Calgary, Kanada
Perustettu vuonna 2002
Absorb LMS: tuki
Puhelintuki
24/7 (asiakaspalvelija)
Chat
Absorb LMS: videot ja kuvat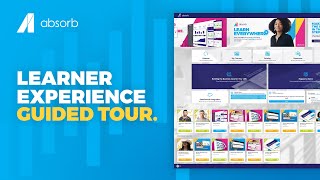 Tuotteen Absorb LMS ominaisuudet
Arviointien hallinta
Asynkroninen oppiminen
Etenemisen seuranta
Etenemisraportit
Hälytykset/ilmoitukset
Itseoppiminen
Itsepalveluportaali
Kolmannen osapuolen integroinnit
Koulutuksen hallinnointi
Koulutuksen hallinta
Kurssien hallinta
Kurssien julkaiseminen
Kurssien laatiminen
Kurssien seuranta
Kuvakäsikirjoitukset
Käyttäjien hallinta
Median tuonti
Mobiilioppiminen
Mobiiliyhteys
Monimuoto-oppiminen
Mukautettava brändäys
Oppijaportaali
Oppimisen hallinta
Oppimispolut
Orientaatiotyönkulkujen hallinta
Pelillistäminen
Pätevyyksien hallinta
Raportointi ja tilastot
Raportointi/analytiikka
SCORM-vaatimustenmukaisuus
Sertifioinnin hallinta
Sertifiointi ja lisensointi
Sisällön jakaminen
Sisällön kuratointi itsepalveluna
Sisällönhallinta
Sisältökirjasto
Sisäänrakennettu kurssien laadinta
Sosiaalinen oppiminen
Synkroninen oppiminen
Sähköisen liiketoiminnan hallinta
Sähköiset lomakkeet
Tehtävänantojen hallinta
Testit/arvioinnit
Toiminnan hallintapaneeli
Työntekijöiden käsikirja
Työntekijöiden portaali
Työntekijöiden sitouttaminen
Usean käyttäjän yhteistyö
Vaatimustenmukaisuuden seuranta
Virtuaalinen luokkahuone
Arvostelut tuotteelle Absorb LMS
Nicolas
Financial Analyst, USA
Vahvistettu LinkedIn-käyttäjä
Rahoituspalvelut, 201-500 - työntekijät
Käytti ohjelmistoa seuraavaan tarkoitukseen: Yli 1 vuosi
Flexible and very complete LMS
Hyvät puolet:
It stands out for its simplicity of use and its pleasant user interface. It offers great flexibility in the design of learning experiences, adapting them to the characteristics of each training process. It has an electronic signature so that participants can demonstrate that they met the requirements of their training process. Integrates seamlessly with any eLearning content library.
Huonot puolet:
I consider that this is a platform with a lot of potential, the only thing that I think can be improved is to simplify some processes to make the configuration easier.
Mark
Training Program Manager, USA
Öljy ja energia, 201-500 - työntekijät
Käytti ohjelmistoa seuraavaan tarkoitukseen: Yli 2 vuotta
Making My Life Easier
Kommentit: My overall experience has been great. The LMS has allowed me to build an entire corporate training program while simultaneously building the LMS to support it. The time-based credential reporting and compliance tracking has allowed to avoid those possible awkward moments with clients' specific training requirements. With this tracking and reporting, we're also able to respond to a client's immediate need by knowing who is qualified and current on a given access or occupational training requirement.
Hyvät puolet:
The Absorb LMS is easily customizable and Admin/Learner user-friendly. This allowed me to expand my Training effort and capabilities with not only scope but greater efficiencies in that I can customize the LMS to meet the varying needs of my different stakeholders.
Huonot puolet:
If there is a negative, it is in the format of the Training Transcript when printed, or exported as an electronic file. The courses appear in alphabetical order without the ability to filter for a time period, or sort chronologically. This frustrates Supervisors who then have to review the entire transcript to find what training an employee has completed in the last year. I understand the Transcript are being reworked by Absorb for 2022, so this may become a non-issue.
Huomioon otetut vaihtoehdot: Accord LMS, Totara Learn, Adobe Learning Manager, Cornerstone LMS ja SAP Litmos
Perusteet valita Absorb LMS: I was seeking a fully supported proprietary platform with the enhanced features and functionality my training program had grown to demand.
Perusteet vaihtaa tuotteeseen Absorb LMS: Absorb met the overlapping sweet spot between cost, features, supported company size, and alignment with the structure of our training program.
Leonard
Business Analyst, USA
Vahvistettu LinkedIn-käyttäjä
Rahoituspalvelut, 501-1 000 - työntekijät
Käytti ohjelmistoa seuraavaan tarkoitukseen: Yli 1 vuosi
Easy to use and highly customizable LMS
Kommentit: In an organization where the employee training process is very significant, it is necessary to have a robust tool that facilitates the planning and execution of staff professional improvement courses. This platform offers a very versatile set of tools.
Hyvät puolet:
I really like that navigating through its functions is very easy. It allows you to design a personalized, interactive and very flexible learning experience. The tracking of participants' progress is very effective and offers very complete reports that provide detailed information for the improvement of the following courses. The electronic signature helps to confirm the fulfillment of the different training stages that are planned.
Huonot puolet:
I would like to see more integration options to strengthen corporate learning paths.
Vahvistettu arvostelija
HR Manager, Irlanti
Vahvistettu LinkedIn-käyttäjä
Rakentaminen, 1 001-5 000 - työntekijät
Käytti ohjelmistoa seuraavaan tarkoitukseen: 6–12 kuukautta
Great Software, Suffers terribly from its customer service.
Kommentit: I rushed into this purchase a little and didnt investigate the level of support that would be offered. In hindsight this would have been a game changer for me as I would have went elsewhere.
The software is good, though it doesnt manage blended learning easily which is frustrating.
Customer Support is absolutely non existent.
Hyvät puolet:
Good User Interface, Good Course Management. Good sync with BambooHR on most things. Good Learner interface. Good Customisation options.
Huonot puolet:
Difficult to manage blended learning. Some factors in course management could use improvements. (Managing assessments) Cannot see how many absences from courses that users have. Some issues with how it syncs with Bamboo(overwriting course information) Customer Support is non existent. 10+ days to resolve any issues. Most issues I have to try and resolve myself by resetting and that causes me other issue. Can sometimes be 'buggy' and will introduce random bugs which can be time consuming to fix and result in me resetting the system sync.
Stefan
Manager, Knowledge Management, Kanada
Tietokoneen ohjelmistot, 201-500 - työntekijät
Käytti ohjelmistoa seuraavaan tarkoitukseen: 1–5 kuukautta
Easy to use LMS platform with the right amount of features for our needs
Kommentit: We were looking for an LMS platform for internal training that could be expanded to customer training afterwards. The sales engagement with Absorb LMS has been a great experience, providing us with the tools and knowledge to properly evaluate the platform (including a trial portal which we could test with our own content). Onboarding was well structured, with a clear plan of tasks to accomplish both on our side and on the vendor side. Absorb provides a series of well-made self-training modules to go through, which complemented the training provided by the implementation project manager. Compared to other LMS, the platform itself is easy to use while providing a good breadth of features for our use. It's a mature product, with a solid backend. We did not experience any performance issues or security concerns. Look and feel customization is relatively basic. The interface is also quite rigid: for example, thumbnails or banners must have precise dimensions, otherwise images are stretched. Because of that it requires a lot of efforts, trials and errors, if you want to have a visual experience distinct from the Absorb default. The main shortcoming we experienced is that some common workflows could be streamlined. They can involve a lot of clicks, which is irritating when you're repeating the same workflow several times in a row. Keyboard shortcuts could be introduced to facilitate some operations, which would alleviate this.
Hyvät puolet:
Easy to use Solid onboarding training for admins Provides content hosting Supports SCORM and xAPI (Tin Can) Supports Instructor Led Classes Zoom integration BambooHR integration Salesforce integration Overall mature platform Great customer support
Huonot puolet:
Look and feel customization lacks flexibility Some workflows could be streamlined, especially for course management No actual course authoring functionality: users need to import learning objects created with external tools, such as 3rd party eLearning authoring tools. This is fine for our needs, but it would add flexibility if there was at least some content authoring functionalities.
Huomioon otetut vaihtoehdot: Skillsoft, Cornerstone LMS ja SAP Litmos
Perusteet vaihtaa tuotteeseen Absorb LMS: The intersection of ease of use, features, customer service and costs of Absorb was superior to all other alternatives we considered. Some were superior in terms features but were too expensive for our needs. Some were less expensive but the customer service was a concern. Some were not as user-friendly. It all came down to that equation: ease of use + features + services + costs. Absorb LMS hit the sweet spot for us.