QT9 QMS
Mikä on QT9 QMS?
Muuta laadunhallinta kaikenkattavan verkkopohjaisen laadunhallintaratkaisun digitaalisten työkalujen avulla. Sitä voi skaalata rajattomasti, ja se on suunniteltu noudattamaan ISO 9001-, ISO 13485- ja
Näytä enemmän
AS9100-standardien sekä FDA:n 21 CFR- säännöstön osan 820, osan 211 ja osan 11 vaatimuksia koskien sähköisiä allekirjoituksia. QT9 QMS automatisoi asiakirjojen valvonnan, CAPA-toimenpiteet, työntekijöiden koulutuksen, kehitysehdotukset/muutosilmoitukset, tarkastukset, kalibroinnit ja auditointien hallinnan. Sisältää verkkoportaalit asiakkaille ja toimittajille, mikä parantaa jäljitettävyyttä. Sovi esittely ja aloita ilmainen kokeilu jo tänään. Vieraile sivustolla.
Näytä vähemmän
Kuka käyttää tuotetta QT9 QMS?
Mikä tahansa organisaatio, joka seuraa säädösten noudattamista (ISO 9001, ISO 13485, AS9100, FDA-vaatimustenmukaisuus jne.), tai mikä tahansa organisaatio, joka haluaa tehdä laatujärjestelmästään paperittoman ja hyödyntää käyttäjäystävällistä käyttöliittymää.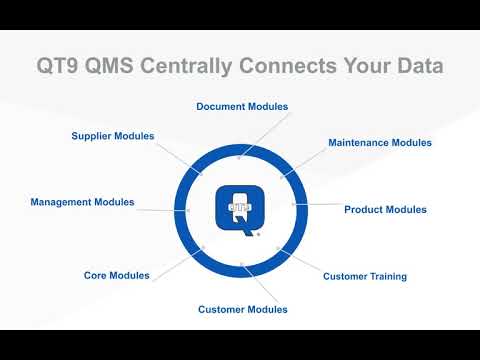 Etkö ole varma tuotteesta QT9 QMS? Vertaa sitä suosittuun vaihtoehtoiseen tuotteeseen
Ilmainen versio
Ilmainen kokeilu
Ilmainen versio
Ilmainen kokeilu
Arvostelut tuotteelle QT9 QMS
Jennifer
Quality Manager, USA
Lääkinnälliset laitteet, 11-50 - työntekijät
Käytti ohjelmistoa seuraavaan tarkoitukseen: Yli 2 vuotta
Huomioon otetut vaihtoehdot:
QT9 QMS
Kommentit: We have observed several benefits from moving to QT9. It has allowed us to move from a paper based/manual QMS system to an electronic system and reduce our paper consumption and record storage. QT9 has streamlined our internal auditing process, preparation for regulatory audits, document control and approval, and organizational training. We have been able to reduce our active documents by 30% as unnecessary/redundant documents and procedures have been made more visible through the document review process. QT9 made it possible for our organization to effectively maintain and continue operating our QMS system without interruption during the global pandemic when limits were placed on gathering size. All of our records are now in one location and it has reduced the time that the organization and Quality unit spend in locating records.
Hyvät puolet:
QT9 allowed us to replace our clunky paper based QMS and move completely to a streamlined, validated electronic platform. The ability to easily manage our document control, auditing, non-conformances, corrective actions, preventive actions, complaints, and calibrations in one location instead of having to spend time retrieving records from multiple locations. QT9 made it possible to maintain our organization's training needs during a global pandemic, when meeting face to face and in groups was restricted. QT9 made it possible to conduct remote training of our organization and evaluate effectiveness with a written test. It unknowingly prepared us to maintain all of our core Quality functions in the midst of a global pandemic without a mis-step. The report format (complaints, corrective/preventive actions, non-conformances, etc) look professional and they are able to quickly be downloaded and provided to either customers, suppliers, auditors, and internally. The consistency of the appearance of the screens in each module made training the organization to use very easy. It was easy to translate the learnings from one module to another. Implementation was similar as well. QT9 technical assistance in uploading of documents and gauges increased the speed in which were able to integrate it into our organization. The unlimited training was also critical especially for the calibration module as it took a bit longer for us to implement and understand how it functioned.
Huonot puolet:
One feature that would benefit from improving is the ability to create both corrective action and non-conformance records from a customer complaint. Currently, the software only allows the creation of one or the other, but not both. However, all records between complaints, corrective actions, and non-conformances are linked through a daisy chain scenario, but it can be awkward when retrieving records during an audit. The calibration module was the most difficult for us to implement as it operated a differently than the other modules. However, QT9 technical support assisted and provided us with all of the training that we requested without delay and worked with us to ensure that we implemented the module correctly for our organization's needs.
Myyjän QT9 Software vastaus
viime vuonna
Jennifer - Thank you for the awesome and super detailed review! We really appreciate you taking the time to share your feedback. These are such great suggestions! We are sharing your feedback with our team.
Dina
Quality Management Specialist, USA
Televiestintä, 501-1 000 - työntekijät
Käytti ohjelmistoa seuraavaan tarkoitukseen: Yli 1 vuosi
Huomioon otetut vaihtoehdot:
Very robust program that centralizes and manages essential QMS & EMS processes and outputs.
Kommentit: The software is outstanding, the support is quick, and thorough. The QT9 team has worked with multiple departments in our organization. From our internal IT group working to setup connections to other platforms, to the implementation team members and document admins as they have been introduced. The support has been consistent and so very much appreciated.
Hyvät puolet:
Intuitive, friendly user interface, the well thought out connections from one module to another. The fact that each module is included and not ala carte is a HUGE benefit. The online training academy is one of the best I have used.
Huonot puolet:
A lot of filters that just take a bit of getting used to. Sometimes they default and employees need a little extra coaching to make sure they are loading the view they need.
Myyjän QT9 Software vastaus
2 vuotta sitten
Dina - Thank you very much for the 5-Star review! It is awesome to hear you like that all the modules in QT9 QMS are automatically included. Please feel free to reach out to us at anytime for additional training on any modules or training for any new employees.
Donna
Document Control Specialist, USA
Biotekniikka, 51-200 - työntekijät
Käytti ohjelmistoa seuraavaan tarkoitukseen: Yli 2 vuotta
No longer using
Hyvät puolet:
I work very little as it is almost completely phased out however it could not keep up business needs
Huonot puolet:
First appear to be intuitive or user friendly
Myyjän QT9 Software (AUS Asia) vastaus
2 viikkoa sitten
Donna – Thank you for taking the time to leave a review. We value customer feedback, and we aim for positive experiences! Please reach out to your QT9 contact and/or email me at [email protected], so we can learn more about your feedback. We are always looking for ways to improve our solutions. QT9 QMS includes 23+ connected modules, and we include unlimited customer training. We try to make using the solution easy for any organization, and we offer multiple options on getting customers the training and support they want.
Televiestintä, 501-1 000 - työntekijät
Käytti ohjelmistoa seuraavaan tarkoitukseen: Yli 1 vuosi
Great tool for an effective QMS
Kommentit: Overall a great experience. QT9 provides great customer services and easy to use modules.
Hyvät puolet:
Very user friendly. Several modules link together to make work flow seamless. Customer support is great and always available to help. Most modules have some level of customizable options to fit the needs of various companies and industries. Easy implementation.
Huonot puolet:
There are a few minor nuances with some modules. However, these can very easily be worked with and do not impact the overall ease of use. Some modules over more degrees of customization than others.
Myyjän QT9 Software vastaus
2 kuukautta sitten
Caylin - Thank you for the 5-star review! It is always great to hear from happy customers. We are happy to hear you find QT9 QMS to be user-friendly. Please reach out to us if there is anything we can do. Thanks again.
Michael
Director, QA/RA, USA
Pakkaus ja säiliöt, 201-500 - työntekijät
Käytti ohjelmistoa seuraavaan tarkoitukseen: 6–12 kuukautta
Huomioon otetut vaihtoehdot:
QT9 is a fantastic QMS tool
Kommentit: We are moving towards a complete integration with QT9 QMS to eliminate a lot of our paper and Excel processes. Having interlinked modules (for example, being able to create NCs directly from inspection results) saves time and improves efficiency. Overall it's a very good platform for a company who needs to jump into a one-stop QMS solution.
Hyvät puolet:
The product is easy to implement because of the built-in world class workflows. You do not need to map your current processes into QT9 - you use the built-in process workflows, and the workflow and tab interface is consistent across the modules. This makes deployment easy, because once people are familiar with the interface they can learn other modules easily. You can focus on how to *use* the software, and not spend valuable time trying to *configure* it.
Huonot puolet:
QT9 is very responsive to feature requests and bug fixes. We have provided several suggestions that are being considered to improve usability. I guess the think I like least is that I didn't start using it sooner.
Myyjän QT9 Software vastaus
viime vuonna
Michael - Thanks for the positive review! We are happy to hear that you have found the implementation easy. We look forward to working with you more on your other workflows and modules.